Christopher Lee
Saruman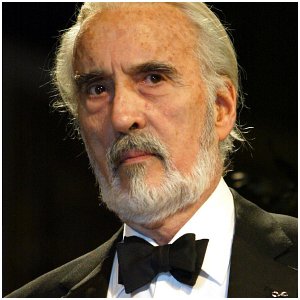 &nbsp&nbsp&nbsp&nbsp&nbsp

&nbsp&nbsp&nbsp&nbsp&nbsp


Full Name: Christopher Frank Carandini Lee
Birthplace: Belgravia, London, England
Birth Date: 27th May, 1922
Marital Status: He is married Birgit "Gitte" Kroencke

Trivia:


His mother's family is the oldest in Europe, and can trace their ancestry back to the first century AD


He founded Charlemagne Productions LTD in 1972


Speaks French, Italian, Spanish and German fluently, and understands enough Russian, Swedish and Greek to manage


Volunteered to help the Finnish forces in their fight against the Soviet Union during the Winter War of 1939. He saw no action like the rest of the British volunteers who were kept away from any actual fighting


Attended Summer Fields Preparatory School in Oxford


His mother Contessa Estelle Marie Carandini was a renowned Edwardian beauty


In 1947 he made his film debut as a spear carrier in Laurence Olivier's Hamlet. This film also featured Peter Cushing who would go on to become his frequent co-star in Hammer films as well as his good friend


Is a classically trained singer. He has recorded a variety of songs including Ghost Riders in the Sky, Mack the Knife, Oh, What a Beautiful Mornin' and also sings on the soundtrack for The Wicker Man


Has an older sister, Xandra


On 16th June 2001, as part of the Queen's Birthday Honours, he became a Commander of the Order of the British Empire for his "services to drama"


He was angry at the deletion of Saruman's death scene from The Lord of the Rings: The Return of the King (2003) when it was released in the cinemas. The scene had been cut due to time issues but it was added back into the film for the Extended DVD release


His father Geoffrey Trollope Lee was a Colonel in the 60th King's Royal Rifle Corps and was decorated for his services in both the Boer War and World War I


Married Gitte in 1961, a Danish model and painter


In 1997 he was made a Commander of the Venerable Order of St. John


Earned a scholarship for Wellington College and studied Greek and Latin


He is one of director Tim Burton's favourite actors and also says that Tim Burton is one his favourite directors


Was a top ranking sportsman in squash, rackets and fencing while at college. He also participated in hockey, cricket, football and rugby


After school his job for a time was as an office boy and messenger boy in London


Has provided voices for video games


His parents separated when he was very young, and his mother took him and his sister to Switzerland


In 1947 he began working under contract for Rank Organization. The contract was for 7 years


During World War II, he served with the Royal Air Force. In South Africa he trained as a pilot but eyesight problems meant he could not continue training. He then went to North Africa and became a cipher officer, serving in Sicily and Italy. He also served as a Special Operations Executive. After the war he retired with the rank of Flight Lieutenant, and was decorated for distinguished service


In 2010 and at the age of 88 years, he became the oldest person to release a symphonic metal album, Charlemagne: By the Sword and the Cross


Passed the entrance examination for Eton, but the fees were unaffordable


Is a fan of the Italian symphonic metal band Rhapsody, and has also performed on a couple of their songs


On 21st June 2004, he was made an honorary citizen of the Italian city of Casina, where Sarzano, the castle of his ancestors is located


Is the only cast or crew member from The Lord of the Rings who had actually met J.J.R Tolkien


Hobbies include golf, travelling, gardening and opera


Attended Miss. Fisher's Academy in Wengen, Switzerland


His mother re-married and his stepfather, Harcourt "Ingle" Rose, a banker, was a step-cousin of the James Bond author Ian Fleming


Released a music album in 2006, Christopher Lee: Revelation


His great grandmother, Marie was an opera singer


Has one child, Christina Erika Caranini Lee


On 13th June 2009, as part of the Queen's Birthday Honours, he was knighted for his "services to drama and to charity". The ceremony was performed by Prince Charles


Notable Projects:


Hugo (2011)
Alice in Wonderland (2010)
The Golden Compass (2007)
Corpse Bride (2005)
Charlie and the Chocolate Factory (2005)
Star Wars: Episode III Revenge of the Sith (2005)
Sleepy Hollow (1999)
Gremlins 2: The New Batch (1990)
The Man With the Golden Gun (1974)
The Wicker Man (1973)
The Three Musketeers (1973)
Dracula: Prince of Darkness (1966)
The Hound of the Baskervilles (1959)
Dracula (1958)
The Battle of the River Plate (1956)
The Cockleshell Heroes (1955)
The Crimson Pirate (1952)
Scott of the Antarctic (1948)
Hamlet (1948)


Current Projects:


The Hobbit: The Desolation of Smaug (2013)
The Hobbit: There and Back Again (2014)


Selected Awards:


2011: BAFTA Academy Fellowship Award
2002: Empire Life Achievement Award
1979: Saturn Life Career Award

< <Back to cast biographies index